Our desire is to make life at Restoration House as normal as possible for the youth!
At the conclusion of a meeting in 2001, a young boy approached us for prayer. His name is Valodia. He looked up and said, "I would like a normal life." Just twelve years old, cold, hungry and frightened, after having been abused by his drunken p
arents, he was thrown to the streets to fend for himself. We wept together and prayed, and at that moment the writing of James came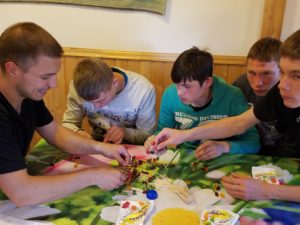 1:27 Pure religion and undefiled before God and the Father is this, To visit the fatherless and widows in their affliction, and to keep himself unspotted from the world.
2:14 What doth it profit, my brethren, though a man say he hath faith, and have not works? can faith save him? 15 If a brother or sister be naked, and destitute of daily food, 16 And one of you say unto them, Depart in peace, be ye warmed and filled; notwithstanding ye give them not those things which are needful to the body; what doth it profit? 17 Even so faith, if it hath not works, is dead, being alone. 18 Yea, a man may say, Thou hast fai

th, and I have works: shew me thy faith without thy works, and I will shew thee my faith by my works.
We had heard about some of the children living on the street, so partners of the ministry sent clothes, shoes, coats and blankets. We met with Valodia just a few days later and he introduced to eight of his friends who he had just recently become acquainted with. After a short visit we knew that we must do more.
We never saw Valodia again, but over the next few years, we started the Gathering Center to help provide for some of the street children and children at risk in Russia. After a couple of years passed, ministry partners decided that we must do more, and the vision of Restoration House was birthed into a reality.
Making it Happen:
1. We began with the purchase of property and building our first home in Nikolskoe, Russia, then building an addition with a larger living room/education area, two bedrooms for staff and a bathroom with private closets to accommodate six. The following year we built a home for girls next to the main house. Since 2006 we have expanded with more bedroom space, a larger dining room and an apartment for the directors of the ministry.
The village of Nikolskoe is located 33 miles south of the city of Saint Petersburg. This location allows us to be far enough away from the city to keep the children separated from wrong influences, yet keeps us close enough to the city to stay connected with others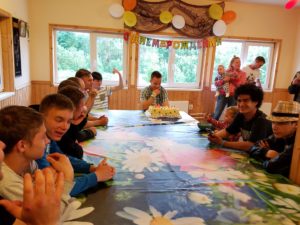 who we network with.
2. Development – We will purchase more property and begin new construction on a regular basis. Each one who can hold a paintbrush or hammer, carry supplies or cook can all have a part of this vision turned reality.
3. Staff – Sergey and Olya Ulyanova are the directors at Restoration House. We have staff and volunteers to help young people with documents, education, job search, and getting their apartments and other government benefits for orphan graduates. We teach life skills, English and other lessons. Our staff regularly visits young people on the streets, in orphanages and small group sessions for orphan graduates without any social support. More staff will be needed in the future AND we need volunteers that will spend time with the children. The volunteers will be both Russian and those who will visit from America. Programs and curriculum will also be needed.
4. Financing – Our commitment cannot be short-term. We will need large sums of money to purchase more property and build more houses. We need finances to buy beds and other furniture. It will take a lot of money and other donations to set up a home, but it doesn't stop there. There will be the monthly food bill, utilities, insurance, wages, etc. We have a plan for the future that will enable the home itself to fray some of the cost and we would like the Russians to see the value of this project and help to finance it. BUT, in the meantime we must be committed for the long-term, as we will be responsible to carry all financial obligations. We will need monthly commitments from churches, organizations, businesses and individuals.
Micaiah Ministries has been recruiting more workers in Russia, AND we have had interns from the United States working at Restoration House. We need more space. It's time to purchase more property. Thank you to each one who has been helping with the finances.
Will you consider making a donation to help us grow?
Together, we ARE making a difference…Together, we ARE reaching the world for Jesus!